DeLonghi ECAM 350 Dinamica
Power: 1450W.
Pressure: 15 bar.
LatteCrema System.
LCD display.
Control Type: touch control.
Grain tank capacity: 300 gr.
Water Tank Capacity: 1,8l.
DeLonghi ECAM 370 Dinamica Plus
Power: 1450W.
Pressure: 19 bar.
LatteCrema System.
TFT color display.
Control Type: touch control / mobile
Grain tank capacity: 300g.
Water Tank Capacity: 1,8l.
Want to enjoy a professionally brewed coffee drink, but not have to go to a coffee shop?

DeLonghi Dinamica and Dinamica Plus solve this need perfectly. One touch will make your favorite beverages – espresso, cappuccino, lattes and more. Thanks to the LatteCrema technology – Dinamica will create a dense and lush creamy crema for your drink.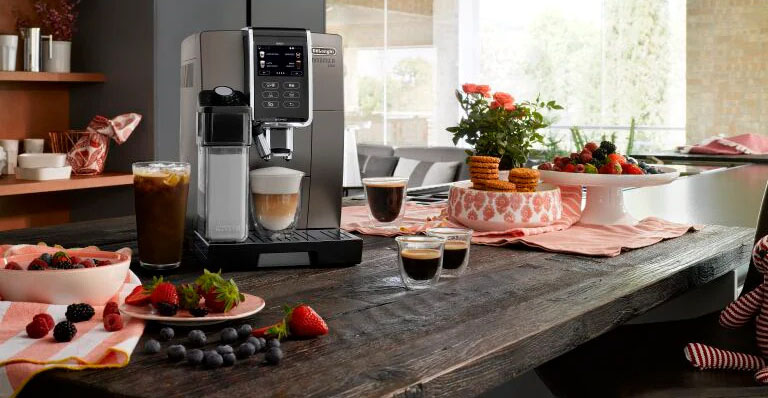 What These Espresso Machines Have in Common
Both espresso machines make great coffee and coffee drinks.
Easy enough to operate, allow you to adjust the degree of grinding, how strong your drink will be, the amount of milk and water.
Dinamica coffee machines are easy enough to care for. The brewing unit is easy to clean. All parts in contact with milk can be cleaned with the automatic cleaning function. Drip tray is dishwasher-safe
Both DeLonghi coffee machines have the same size bean hopper and water tank, enough for a company coffee.
The design of these espresso machines is very similar, but with one huge difference in the screen.
Differences
The Dinamica Plus has a slightly more powerful pump, unlike the Dinamica. Which will get the most flavor from the coffee beans and you get a minimum wait time from power on to pouring the coffee into cups.
Dinamica Plus allows you to save up to three profiles and the profile is saved with the factory settings (but you need to clarify before buying, not all series support this).
But the main difference between the Dinamica Plus and the Dinamica is the large Fulltouch color TFT display.  In addition to detailed information, the screen displays illustrations that are great to help you cope with the choice of drink.
The new coffeemaker also has a mobile app for Android and iOS devices. The connection between the phone and the coffee machine is made via Bluetooth. From your smartphone you can access all possible functions + you can start the preparation of coffee remotely, the main thing is not to forget to put a cup in advance.
Appeared in Dinamica + and solve in which you can run the preparation of several coffees in a row!
Dinamica Espresso Machine, with frother

Dinamica Plus Espresso Machine

Dimensions (WxDxH) (mm/inches)

Beans container capacity (oz)

Water container capacity (oz)

Grounds container capacity (n)

Rated voltage/Frequency (V~Hz)

Espresso, Coffee, Long, Doppio+, Coffee Pot, Over Ice

Cappuccino, Latte Macchiato, Cappuccino+, CappuccinoMix, Hot Milk, CaffeLatte, Flat White, Espresso Macchiato

Possibility to customise length

3.5" TFT full-touch color LCD display


LatteCrema System Technology

LatteCrema System Technology

Possibility to use water filter

Programmable water hardness

Possibility to use pre-ground coffee
So which should I choose – delonghi dinamica or dinamica plus?
For myself I would choose Dinamica Plus, a large screen with pictures makes it very easy to select and make coffee. Control from the phone is a very nice bonus, you can start making a drink without getting out of bed. But we must take into account that all this affects the price.