1. A Little About DeLonghi
DeLonghi has been making quality and reliable small appliances for over 120 years, which has earned the love of users all over the planet. Some of the most popular products of this manufacturer are De'Longhi espresso machines. The most popular are probably Magnifica, Dedica.
One of the reasons for the popularity of this brand – it is complex to produce, but very easy to use coffee machines with an intuitive interface. In addition the line of produced devices is very extensive and you can pick up a device not only on budget but also on the necessary functionality.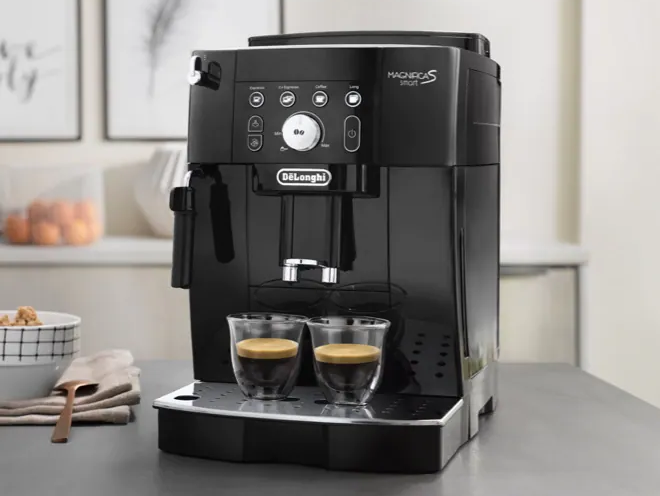 2. Would Like To Give You an Overview of Our Product Line for Coffee Aficionados
2.1 De'Longhi Automatic and Semi-Automatic
Do you like a strong espresso or a mild latte? The DeLonghi does a great job with either beverage with almost no input from you.
That's why I love automatic coffee machines:
The brewing process, in which I can minimally participate;
The perfect result. Whether I like my coffee stronger or prefer a milder beverage, nearly all automatic machines allow me to adjust the results to my own preference;
You prefer espresso and are not interested in cappuccinators and other gadgets – ok. Can not start the morning without a cappuccino – and then the manufacturer has something to offer;
Quality and a decent warranty also add to the plus side of the choice.
De'Longhi Dinamica Plus Perfetto
Always fresh grind, up to 13 levels of adjustment;

LatteCrema system produces a thick and creamy froth;

Touch screen to select drink, degree of grinding, strength. Most popular drinks automatically appear on screen;

Dinamica Plus can be connected to your smartphone and you can create a huge variety of drinks with individual settings;

Special Feature: Programmable.
De'Longhi Magnifica
Built-in coffee grinder with 7 levels of grind;

You can adjust the features of the drink to suit you;

Easy operation (no screen).

Special Feature: Integrated Coffee Grinder; Milk Frother; Programmable; Removable Tank; Thermoblock; Сup warmer
2.2. Coffee Makers: Drip and Carob
For those who like appliances without frills and prefer to be involved in the coffee making process, DeLonghi offers drip and carob coffee makers.
With DeLonghi drip coffee makers, heated water passes through a compartment with ground coffee, in the process saturating the flavor and aroma. And then the beverage drops go into the tank.
In a carob, the steam passes through the ground coffee and then condenses. As a rule, such coffee is stronger and the taste is more pronounced. But carob coffee makers are very demanding when it comes to grinding the coffee beans.
De'Longhi Specialista Prestigio
DeLonghi Clessidra
2.3. DeLonghi Capsule Coffee Machines
Great models for those who love coffee but don't like complexity. No need to select the right bean grind, no mess. All you need is water and Nespresso Original capsules.
That said, DeLonghi has taken care and left us with no choice:
There are models with a cappuccinatore;
You do not like coffee with milk, great – there are models without a container for milk;
You can choose a coffee machine with different volumes – for one or for a small family;
There are capsule models where you can program the strength and volume of the drink, and there is a simple control;
There are also very stylish coffee machines that are not only a faithful assistant in the preparation of coffee, but also a decoration of the kitchen.
De'Longhi Nespresso Inissia
---
2.4. DeLonghi Coffee Grinders
If you like to grind your own beans, you can't do without a grinder! And since DeLonghi knows a lot about coffee equipment, I recommend to pay attention to their grinders.
Here, too, the manufacturer pleases us with a wide range of choices, from the casual aficionado to the sophisticated gourmet:
Basic knife-type models;
Grindstone models;
Almost all grinders allow controlling the degree of grind;
There are mills with volume control sensors;
With end of grind indication;
All you have to do is choose the model which suits you best.
De'Longhi, Coffee grinder KG79
Transparent bean container, holds 120 grams (approx. 12 cups);

Transparent grounds container;

Grinding capacity is selectable from 2 to 12 cups. After that the grinder switches off automatically.
De'Longhi KG200 Electric Coffee Grinder
---
2.5. DeLonghi Milk Frother
If you like cappuccino/latte but your coffee machine doesn't have a built in cappuccinator, automatic cappuccinatores are the best solution.
This autonomous cappuccinator will delight you with dense milk foam (hot or cold), help whip cream or herbal milk!
Alicia Latte Milk Frother
---
2.6. DeLonghi Bean Coffee
That's right. Who better than a coffee equipment manufacturer to know the ins and outs of coffee beans.
Bottom line
This proven Italian manufacturer can cover all the needs of a true coffee drinker, from coffee beans to equipment. In this case, the functionality and selection options are simply huge and will fit any finances.
3. Factors To Consider When Choosing a DeLonghi Coffee Machine
Your favorite beverage
An important point to consider when choosing a machine is whether you only drink a good espresso or prefer drinks with milk. In the first case, you don't need a machine with a frother. In the second case, you can either choose a machine with an automatic milk churn or buy a separate churner, it's up to you to decide.
Your budget
Here it is important to determine what features you need and how much money you are willing to pay for it. You can buy a great espresso machine from $120, or you can choose a super automatic coffee machine with a full range of features and pay about 25000 dollars. But if you're not going to use these features – what's the point?
Service
It is important to understand how much time and money you are willing to spend on maintenance of the coffee machine. Since any appliance requires cleaning and maintenance.
For example, Nespresso machines require minimal maintenance. A semi-automatic machines are very demanding to service and cleaning, some parts can not be washed in the dishwasher – so you will wash them by hand.
How easy to use
This is where it's important to understand – how much you're willing to participate in the brewing process and how much you care about adjusting your beverage settings. Or do you want to hand these complexities over to technology and do you care about making a drink at the push of a button? (this is my favorite option)