S8 has a large 4.3″ color touch screen display, while E8 is equipped with a 2.8″ TFT display and six buttons;
The S series has two additional recipes: latte and espresso macchiato;
S8 has a special program for dispensing hot water to brew green tea;
Beverage strength, 10 settings instead of 8;
One more setting to adjust brew temperature;
Bluetooth adapter Smart Connect, which allows you to start the preparation of a drink from your smartphone (the main thing is not to forget to put a cup before).
---
Jura E8 automatic coffee machine
The Jura E8 coffee machine has a red dot award in design, for its simplicity and expressiveness.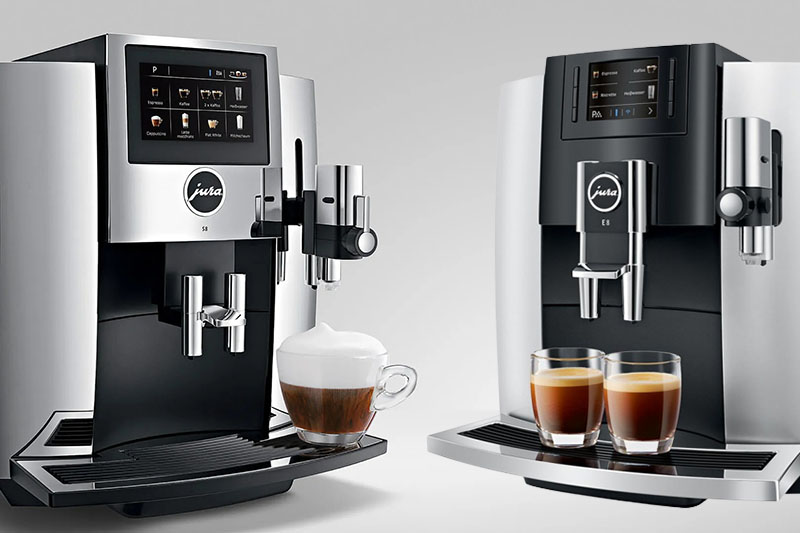 Number of speciality coffees

Latte macchiato Extra Shot

JURA Cockpit with maintenance status display

WiFi connection to home network

JURA coffee machine standards

Pulse Extraction Process (P.E.P.®)

One-Touch Americano function

Professional Aroma Grinder

Professional Aroma Grinder

High-performance pump, 15 bar

Operating and programming standards

4,3'' touchscreen color display

Store, copy and personalize products

Programmable and individually adjustable amount of water

Programmable and individually adjustable coffee strength

Energy Save Mode (E.S.M.©)

Zero-Energy Switch or power switch

Programmable switch-off time

Amber/white cup illumination

Height-adjustable/width-adjustable coffee spout

Heigh-adjustable cappuccino spout

Height-adjustable hot-water spout

Bean container holding capacity

Coffee grounds container (approx. servings)

Article number / Product code
E8 features:
2.8″ clear color display with up to 4 user preferences displayed on the start screen, thanks to an intelligent algorithm;
The keys located around the TFT display change their function depending on the displayed picture and by default start the preparation of selected drinks with a single touch;
17 branded drinks;
Built-in brewing unit. This minimizes the care of the coffee machine, but it is important to clean it precisely on schedule with special products;
The brewing unit holds from 5 to 16 grams of coffee and has a pre-brew function;
Aroma coffee grinder with steel millstones and 6 grinding steps (but you can put intermediate settings);
Invensys pump with 15 bar pressure and unique Pulse Extraction Process (which can slightly increase the brewing process compared to pumps without PEP);
1450 Watt thermoblock;
Water tank capacity of 1.9 liters;
Grain hopper with 280 grams capacity;
Two cups of coffee in one grind thanks to convenient dispenser;
Claris SMART water filter;
One-Touch – this feature allows you to clean the milk system with one touch.
---
Jura S8 automatic coffee machine
The Jura S8 has earned the red dot award and the iF Design Award in industrial design: modern, stylish, solid.
Jura S8 features:
Large 4.3″ touchscreen display with animation, with 8 one-touch brews on the start screen (you can customize according to your preferences);
The Aroma steel mill grinder has 6 grind levels;
15 bar pressure pump with PEP technology for more flavor and aroma;
1450 Watt thermoblock;
Water tank capacity of 1.9 liters. Water is filled from above;
Cake bin for 16 servings, pulls out from front;
Coffee grounds hopper with 280g capacity;
Ability to access remotely from a smartphone;
There is an adjustment of the height of milk foam;
Automatic rinsing cappuccinator (in E8 you could play with the settings);
Hot water nozzle;
S8 can be connected to a milk cooler (but will need a radio signal receiver);
The coffee dispenser allows you to make 2 or one cups of coffee.
Resume
I recommend choosing the S8 if you:
it's important to have a touch screen;
you will use the function of heating water for brewing green tea;
you like to start the coffee machine from your smartphone.
If you prefer button controls, you are not a fan of green tea – E8 is ideal.
In general, all Jura coffee machines offer a wide range of features and functions, a stylish design, great quality – so buying a Jura will bring pleasure to any coffee drinker.