History of the brand
Australian brand Breville was created in 1932 in Sydney. The greatest popularity the brand brought small household appliances, honorable place among which belongs to the coffee machines. Although the company began its history with the creation of radios. One of the popular products was also Creatista Nespresso coffee machines.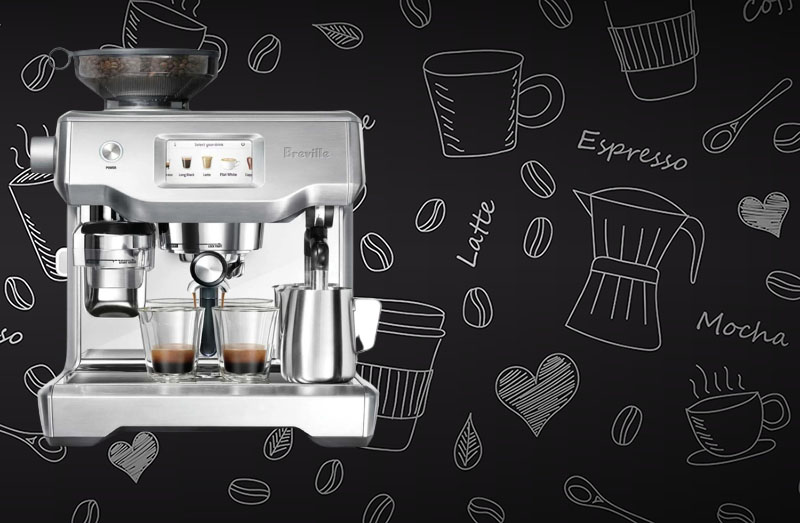 In 2008, the holding changed its name to Breville Group Limited. The Breville also owns the Kambrook and Sage brands, BORK, SOLIS.
What does Breville make?
Breville's main specialization is small kitchen appliances (kettles, toasters, espresso machines, juicers, coffee grinders, blenders and more). Their sandwich maker, for example, was an enormous success in 1974, helping the company expand its market.
Breville's signature coffee is based on four key points:
The correct dosage of coffee beans is 18-22 grams;
Optimal water pressure of 9 bars;
Exact control of water temperature 200 °F;
Velvety milk microfoam.
For those who like to control the process, it is worth paying attention to manual coffee machines. For those who like to enjoy a one-touch coffee drink – suit the automatic machines of the new generation.
For coffee lovers, Breville today offers a complete set of which includes:
An espresso machine to fit your lifestyle;
A year's discount on Beanz coffee beans with delivery;
Training and support;
A barista tool kit (from measuring scales to latte cups).
Which sounds very convenient to me, especially if this is your first coffee machine.
Interesting coffee machines from Breville
Oracle Touch – next generation automatic espresso machine
It allows you to make coffee in three steps: grind coffee beans, brew coffee and get the milk foam, all with the help of a clear touch screen. This coffee machine allows you to choose the strength of the drink, the density of the milk foam and the temperature, while you can save your favorite personalized settings.
The main advantages of Oracle Touch:
Touch screen with clear images of the drink;
The built-in precision grinder has up to 45 grind levels;
Dual Boilers – Stainless boilers heat water to precise temperature for maximum flavor and aroma;
Stainless steel portafilter that holds the perfect portion of ground beans;
Quality espresso that starts with low-pressure brewing followed by high-pressure extraction;
Velvety milk foam, whose texture and temperature can be regulated.
Oracle is probably the best espresso machine to make professional-grade espresso at home.
Bambino Plus – quality espresso
Quick start for a perfect espresso and an automatic steam system for making lattes (if you prefer manual milk froth it's worth looking at Bambino).
What's good about the Bambino Plus:
The PID temperature control heats the water to the set temperature in 3 seconds;
Velvety milk micro-foam, the temperature of which can be adjusted;
Stainless steel portafilter with double and single filter;
Espresso brewing begins with low-pressure infusion followed by high-pressure extraction;
Simple interface with large buttons;
Compact size that doesn't need much space.
Dual Boiler – home barista From Breville
Dual Boiler allows you to make a drink at the right temperature and foam the milk.
What I like:
Double boiler with PID temperature regulator;
Stainless steel professional portafilter with 22 grams of ground coffee serving capacity;
Infusion at low pressure followed by extraction at high pressure;
*control by means of a simple LCD screen and a manometer.
Creatista Pro – coffee as in a cafe
Nespresso Creatista Pro – gives you the ability to prepare 8 set drinks with the ability to adjust the volume and temperature of the coffee, as well as the texture of the milk foam.
Likes:
The color TFT touch screen on the front panel with an intuitive interface;
Separate hot water supply for cup heating;
Multiple drinks in less than a couple of minutes:
Automatic adjustment of milk foam texture and temperature for milk drinkers;
you can save the settings of your favorite drink in a personalized menu and start the preparation with a light touch of the touch screen;
Creatista Pro just looks stylish in its steel design and doesn't take up much space in the kitchen.