What types of coffee machines are there?
How to choose a coffee machine for home
Features of coffee machines
What else you might need
What is the best coffee machine for your home? The first step is to choose the type of coffee maker that best suits your needs. Follow these steps to make your coffee at home taste as good as your favorite coffee shop.
A Manual Cooking Method
In 1905, the first manual coffee machine hit the market. It takes practice, knowledge, and skill to handle her. You can control each step of the preparation, such as grinding coffee beans and frothing milk, with this option. Such meticulous work will result in a cup of coffee with an original, unique flavor.
A Coffee Machine Semi-Automatic
Are you a fan of hand-brewed coffee, but don't want to do all the work by yourself? If that's the case, a semi-automatic coffee machine will come in handy. You specify how much coffee and what grind to put in the filter basket, adjust the pressure when compacting the powder, and start the water pump yourself to adjust how much incoming liquid you want. The coffee machines in this category are usually found in home kitchens.
Automatic Coffee Machines
These coffee makers, also known as 'super machines,' start with a touch. Many models allow you to program your own strengths and save them for later use without too much effort. The originality and originality of the bouquet of an automatic coffee machine is slightly inferior to a semi-automatic one. They are a perfect choice for those who appreciate simplicity and speed of preparation without losing the flavor of the drink.
Portable Coffee Maker
Small coffee makers serve their purpose well while taking up little space. They are perfect for small kitchens, and many models don't even require an electric connection. Also, this makes portable coffee makers an excellent choice for people who enjoy the great outdoors. However, we should keep in mind that such devices vary greatly in quality, so their choice should be approached carefully.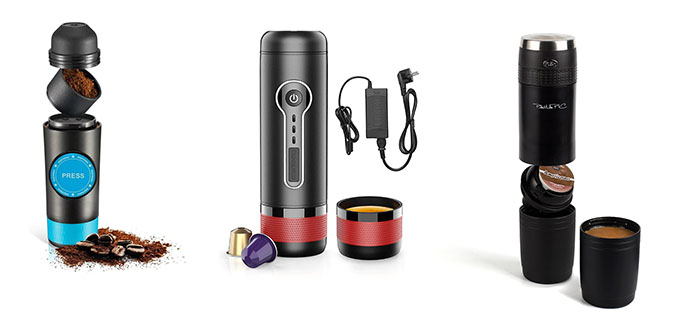 Pod Machines
Capsule (carob) coffee machines are very easy to use, but they don't always produce high quality coffee. One stumbling block can be choosing the right capsules for your particular model. However, these machines are very difficult to beat for speed, ease of preparation, and low maintenance (Learn more about capsule coffee machines here).
Coffee Machines For Commercial Use
Commercial coffee machines are designed specifically for use in coffee shops. It is uncommon to find this in a home kitchen. Their price is quite high and they are designed to prepare large quantities of coffee. There are some models that can be used both in a cafe and at home.
How to Choose a Home Coffee Maker
Are you overwhelmed by the variety of coffee machines? No problem! We've created a quick guide for you to understand the differences and choose the right one for your needs and preferences.
Brands of Coffee Machines
You should pay attention to industry leaders when buying a coffee machine. In terms of well-known brands, the following are worth highlighting.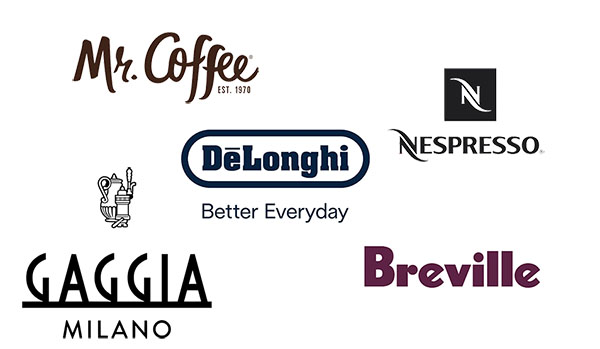 Breville
The company was founded in 1932 in Sydney, Australia, and is one of the top manufacturers of small kitchen appliances. Has been repeatedly recognized for creating innovative products of high quality at an affordable price.
We are not surprised that the brand produces some of the best coffee machines for the home, featuring a wealth of options and ease-of-use. Breville coffee makers impress beginners and experts alike and deliver the perfect espresso every time.
DeLonghi
Founded in 1902 as a manufacturer of machine tools, the Italian company was incorporated in Treviso. In 1950, however, the brand's owners shifted its focus, and now it's known as a manufacturer of kitchen appliances, household appliances, and food products. It released its first BAR5 coffee machine in 1993, while the first Magnifica superautomatic machine has been known to the world since 2004. Lattissima is Nespresso's coffee maker created in partnership with the Italians since 2007. The company acquired the rights to manufacture Braun home products in 2013.
Nespresso
The Swiss company Nespresso began producing coffee capsules in 1986. The first line of the brand consisted of only two coffee machines and four types of coffee.
In 1991, the company launched a recycling program for aluminum coffee capsules in its home country, and today there are 34 recycling centers. Its dedication to sustainable practices continues today, both in its ethical trading of coffee and in its search for aluminum to make its capsules.
There have been competitors producing capsules to use with Nespresso coffee machines since 2010. Thus, the company now collaborates with Breville and DeLonghi, which has greatly simplified the production and maintenance of coffee machines. The brand opened its first LEED-certified production facility in Switzerland in 2015.
Gaggia
It was founder Giovanni Gaggia who patented the first steamless coffee maker in 1938. As a result, espresso makers were introduced to a new method of making espresso, which is now enjoyed by coffee lovers all over the world. Gilda, the first coffee machine designed for home use, was introduced in 1952. We should be thankful for the colorful concept of "pulling a shot" used by baristas when preparing espresso, as the first Gaggia coffee machines operated with levers.
Mr. Coffee
During the 1970s, Mr. Coffee patented the first drip coffee machine. At first very expensive and delicate, they gradually became cheaper and gained pride of place among the kitchen gadgets of citizens. From a drip coffee maker to a pressure washer, the brand's success demonstrates how well it knows about the extraction of ground coffee.
Coffee Machine Features
It may seem that some special language has been invented for coffee machines, making it difficult for non-specialists to understand. However, this isn't the case. When choosing a coffee maker, there are several basic parameters that will enable you to easily overcome this obstacle.
Coffee, Single or Double
Essentially, this option describes the amount of coffee you have made. A single shot of espresso is about 30 ml of finished drink from about 7 grams of ground coffee. Double uses 14 grams of sugar to make 60 milliliters. In modern double espressos, the volume and saturation of the drink tend to increase.
PortaFilter
It is the part which holds and fixes the filter basket which you use directly to make coffee. Portafilters are available in diameters ranging from 40mm to 60mm, with 58mm being the standard commercial size. Understanding this indicator will allow you to choose the right filters or tamper.
Filter
Part of the portafilter that contains ground coffee. It is possible to adjust the size of the filter baskets in home coffee machines, which directly affects the final strength of the drink. There are some models that have filters designed for the ESE container.
One-touch
With the touch of a button, you can prepare espresso. In most vending machines, you can program drinks, and then just press a button to get them. How can something be programmed? The temperature of the water, the amount of coffee used in one serving, or the quantity of milk used.
Heating system
The part within the coffee maker that is directly responsible for the preparation of coffee drinks. The design and power of the system impact the rate of heating and ability to maintain a stable temperature.
One path
It is a common modification that uses the same boiler to provide both water and steam. Espresso cannot be prepared and milk steamed simultaneously with this system. Several high-end coffee machines are equipped with two boilers, allowing the user to make both steam and coffee at the same time.
Tray for drips
The section where you place the brewed coffee container is removable. After picking up the cup or carafe, the drip tray collects any drips that have been spilled by the coffee maker. Simple to remove and clean. Under some coffee machines, you can remove the tray to place a tall container under the portafilter.
Steam wand
To make milk drinks, such as latte or cappuccino, a steam wand is required. Controlling the steam tube is simple. In some coffee machines, you need to press a button, while in others, you need to turn a valve that controls how much steam passes through the tube. There are systems that can pass milk through a tube, frothing it and heating it, so it can be added directly to the drink.
Water reservoir
When you make espresso or frother steam, you use this container. The bigger the tank, the more coffee you can make.
Integrated functions for frothing milk
To choose a coffee machine, you need to start by considering what drinks you like most. Those of you who enjoy latte and cappuccino should pay attention to devices that have frothing capabilities. However, frothing is not a critical option when making espresso or americano, so you can select a more budget-friendly machine.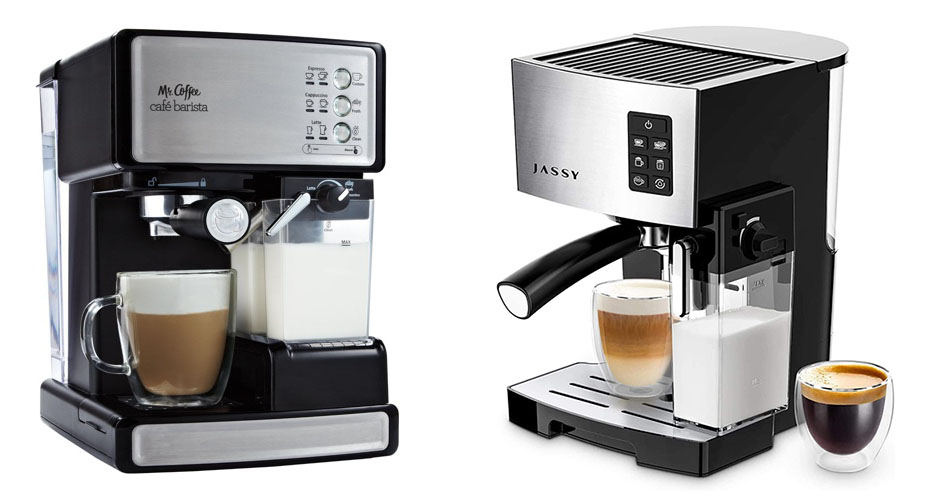 Do you want to froth your milk? There are several options available. The hand steam wand and pitcher are the most popular. A little effort is required, but the result is amazing: a silky smooth microfoam.
For coffee machines, some manufacturers modify the steam wands to make frothing easier. As an example, here is the Panarello steam wand from Gaggia. Automatic frothing is offered by Super Autos. The only thing you need to do is set the temperature and texture of the milk. Even though the quality of implementation is not always at the highest level, and such a system requires a lot of money to maintain, the convenience and simplicity are undeniable.
If there is no frother in the machine, what should I do?
In case you opt for an automatic coffee maker, it is most likely equipped with a milk frother or a latte and cappuccino steam wand. Budget coffee makers tend to ignore this option, so you will need to purchase an additional device to make coffee drinks with milk.
Anything else you may need
Your new coffee machine has been selected. Congrats! As time goes on, you may need a few accessories. You may want extra gear if, for example, you enjoy delicious crema with every espresso.
Burger grinder
The uniformity of the grind of coffee beans is a fundamental aspect of espresso making. Burr grinders are considered the best choice for quality grinding by most coffee lovers. Manually or electrically, they grind beans as well to a smooth mass, which ensures good extraction. Hand-crank coffee grinders offer fine control over the quality and fineness of your beans.
An Espresso Tamper
The tamper is necessary for evenly pressing coffee into the filter basket and is integral to making a good espresso. Many models of coffee machines include a good tamper as part of the package, but in most cases, manufacturers provide a cheap plastic substitute. The best tamper to buy is one with a metal base and a comfortable wood handle. The market also offers spring-loaded tampers that allow you to evenly distribute pressure on the coffee grounds.
Pitcher of steam
Are you crazy about lattes and cappuccinos? Do you have a steam wand on your coffee machine? Then you will definitely need a steam jug in this kit. The best jugs are made of stainless steel, their rims hold the splashes of steaming milk, and their spouts are good for latte art. Yes, yes, beautiful patterns on the surface of your favorite coffee are the result of a quality steam jug.
The knockbox
It is possible to make espresso without a knock box, but using one will make the process much simpler. A knock box is a container for used coffee grounds: all you need to do is tap it with a portafilter. To contain hot grounds, this trinket must be durable and heat resistant.